What to expect in Mombasa
Mombasa is the Oldest and the second largest city in Kenya. Mombasa is reach in Culture, Art and history. Lets walk through some of the things you can look forward while in Mombasa.
For hotels visit our facebook and Instagram Accounts:
Mombasa Weather
The Mombasa lies on 23m above sea level and has a tropical climate. In winter, there is much more rainfall than in summer. The temperature here averages 26.7 °C | 80.0 °F. About 1196 mm | 47.1 inch of precipitation falls annually. The warmest month of the year is March, with an average temperature of 28.7 °C | 83.7 °F. In July, the average temperature is 24.6 °C | 76.3 °F. It is the lowest average temperature of the whole year.
Location
Located on the Kenya's Coast Line off the Indian Ocean.The closest Airports of Mombasa is: Moi International Airport (MBA) 7.37km.
You can reach Mombasa from this Cities directly by Plane:
Frankfurt (FRA)
Addisa baba (ADD),
Nairobi (NBO),
Dubai (DXB),
Kigali (KGL),
Arusha (JRO),
Moroni (HAH),
Zanzibar (ZNZ)
Population
The population of Mombasa is approximately 1.20 Million the town is roughly 294.70 km² (113.78 mi²)
Beach Sunrise/Sunset
Get the Timing on Sunrise and Sunset in Mombasa here
Wake up early and stretch in front of one of the most gorgeous sunrises that you will ever see. There is something very calm, serene and peaceful about Sunrise/Set and I can guarantee you that once you've experienced it once, you will find yourself wanting more of this atmosphere. The red, orange, pink, purple and blue create a vibrant backdrop which contrasts with the shadows of the waves as they are coming to shore: a perfect photograph opportunity during sunset.
Mombasa Town
Ivory Tasks (Pembe za Ndovu)
The tusks were commissioned in commemoration of a visit to Mombasa by Queen Elizabeth in 1952 and have remained since that time. Initially the lower part of the tusks were illegally used for advertisement but after the city council enforced strict laws, the landmark has remained in its original form ever since.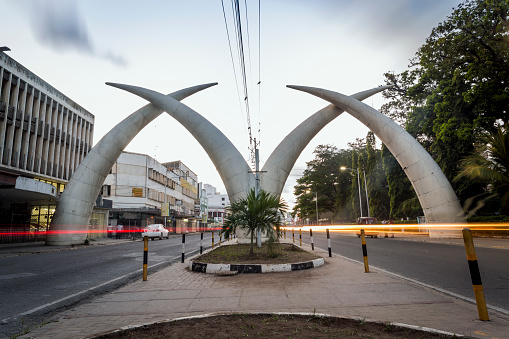 Likoni Ferry
Ferry services at Likoni Mombasa started in 1937. The ferries have remained the one and only link to the south coast. The operations are situated on the gateway to the port of Mombasa. The link is important not only to the local users but to those heading to Tanzania and beyond.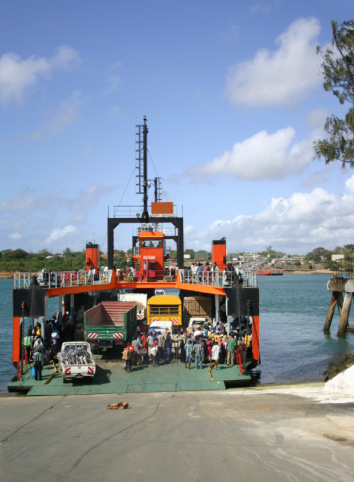 Mama Ngina Drive
You can relax and watch the world-class ships passing by as they arrive and leave the port of Mombasa. The fight for Mombasa Island (Mvita) is believed to have taken place on this site. Some Swahili natives still call Mama Ngina site Mizimule (A place of spirits/ghosts) because of the lives lost on that site and the presence of the many baobab trees. We have underground tunnels and caves on the cliff at Mama Ngina that were first used by Arabs during the slave period as holding grounds before the slaves were sold abroad. On its stretch also lies the Mombasa Golf Club, which was built in 1911, when the British had invaded Mombasa and set a protectorate.
Mombasa Old Town
The now old Port (Mombasa) was notably the docking place for Arabian, Indian, Persian and Somalian traders. During the annual monsoon winds, the traders would dock their dhows at this port and bring porcelain,textile, oils,silk and spices. During this period after the monsoon winds, some traders would stay back and settle in the old town. This settlement led to cultural blending that allows Mombasa to crow of diverse people, cultures, cuisine, architecture and languages. The buildings are conveniently located opposite each other and separated by narrow streets. They are a mix of old Arabian, Portuguese, old British and Asian architectural designs, characterized by raised balconies and wooden windows.Here you can see the First Hotel in Kenya that was operational by 1901, The First Mosque in Kenya.


Fort Jesus
Designed by Italian Giovanni Battista Cairati, it was built between 1593 and 1596, by order of King Philip I of Portugal, to guard the Old Port of Mombasa. Fort Jesus was the only fort maintained by the Portuguese on the Swahili coast, and is recognised as a testament to the first successful attempt by a Western power to establish influence over the Indian Ocean trade.
Fort Jesus was captured and recaptured at least nine times between 1631, when the Portuguese lost it to the Sultan Yusuf bin al-Hasan of Mombasa, and 1895 when it fell under British rule and was converted into a prison.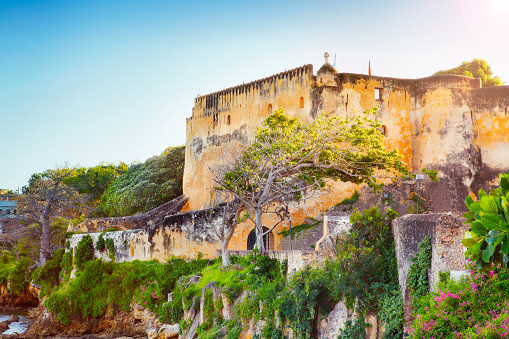 Bombululu Workshop and Cultural Centre
This non-profit organisation produces crafts of a high standard and gives vocational training to physically disabled people. Visit the workshops and showroom to buy jewellery, leatherwork, sisal bags, carvings and textiles. The turn-off for the centre is about 3km north of Nyali Bridge. Bombolulu matatus run here from Msanifu Kombo Rd, and Bamburi services also pass the centre.
Food
Biryani, Pilau, Kashata, Mabuyu, Viazi Karai, Kaimati, Mbaazi, Shawarma, Swahili Coffee, Mishakiki. There are a lot of food types in Mombasa that you can sample with a lot of hotels cooking the local foods.
Marine Park
For Snorkeling and Diving with coral reefs. It was established as a Marine Park in 1986, and encloses part of the lagoon, back reef and reef crest habitats of the Bamburi-Nyali fringing reef. The Marine park is characterized by warm tropical conditions varying at the surface between 25 °C and 31 °C during the year, stable salinity regimes and moderate nutrient levels.
Haller Park
Originally it was called the Bamburi Nature Trail, but has recently been renamed Haller Park in honour of Dr. Rene Haller in recognition for his work made in conjunction with Bamburi Portland Cement Company for transforming their abandoned quarry into the ecological wilderness it is today. A vast rage of plants and animals on a natural setting. Here you can see Giraffes, Hippos, Tortoise and snakes….Cost you around 500 Kshs.
Beach
This is totally free…..Pirates Beach is the most famous in Mombasa. Here you can hire a sit and just relax, Walk on the beach or get a tube to swim if you are not good in swimming.


NIGHTLIFE
There are places near the top end of Links Rd Nyali called Nyali Centre.
The whole stretch through Bamburi Beach, Shanzu to Mtwapa there are so many clubs that are of international Standards.
Examples include II Covo, Tapas Cielo, Anuba, hypnotica, MoonShine at the Reef Hotel,
It's always safe to get back to your hotel at any time of the night with Taxis.
Welcome to Mombasa